Designed to match, engineered for power.
New MCA multi-channel amplifiers are Crafted in Canada and perfectly match the new AVM 60 processor & MRX receivers.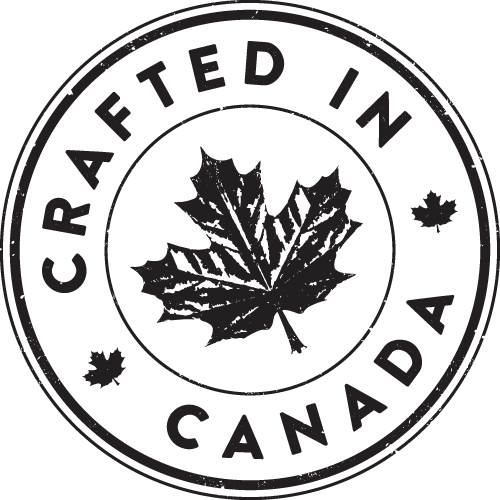 To complement the NEW AVM 60 A/V Processor, Anthem introduces the new MCA 525, 325 and 225 power amplifiers. Available in 5, 3 and 2-channel configurations, these new MCA amplifiers feature more robust and efficient power and heavy-duty reliability. The new MCA Series delivers lower THD (total harmonic distortion) for more clean, pure sound and lower noise for a supremely quiet background.
Like all Anthem products the MCA 525, MCA 325 and MCA 225, designed and Crafted in Canada, are like no other amplifiers in the world: custom low noise high-power toroidal transformers; high-current bipolar output transistors; high-quality filter capacitors; advanced power supply regulators; oversized aluminum heatsinks; custom-designed dual binding posts; and patented auto-on/off circuitry. Superior craftsmanship that is reflected in clean, clear, audiophile-quality sound from top to bottom of the frequency spectrum.
MCA 225 Features & Functions
225W in 2-Channels
Delivers lower THD (Total Harmonic Distortion) for cleaner, pure sound and lower noise
Completely redesigned for improved audio performance and reliability
Higher current output for lower distortion
Cosmetic match for AVM 60 A/V Preamplifier-Processor
Improved Advanced Load Monitoring system
8 bipolar output devices per channel for less stress on each device
Less than 2 watts standby power consumption
Crafted in Canada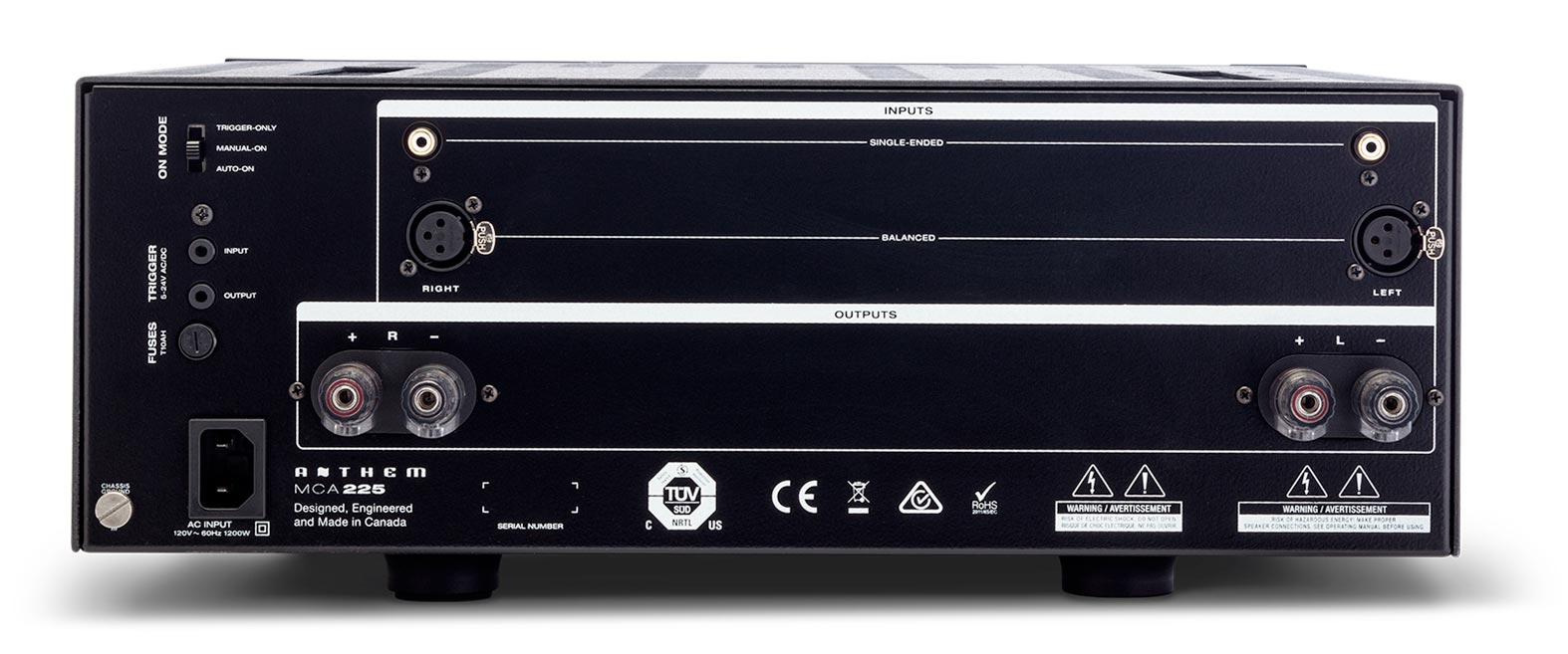 Create the Immersive sound experience of Dolby Atmos
11.2 channels from one AVM 60, one MCA 525 amp, and two MCA 325s.
An All New MCA Series
What does it take to improve on perfection? Over 15 years of concentration. The distillation of endless hours of fundamental research. The willingness to rebuild from the ground up. And the focus on a single goal: Leadership through innovation and technology. Introducing the new generation of Anthem MCA Amplifiers, designed, engineered and manufactured in Canada!
Completely Redesigned
The new MCA series greatly reduces the use of internal cabling for a much smoother circuit path for pure, unobstructed audio performance. The use of low-flux toroidal transformers and improved input transistors provide a greater sense of transparency, even with dynamically complex material.
We've also improved other performance benchmarks including power bandwidth and slew rate. With a signal-to-noise ratio of 120 dB, background noise is practically nonexistent, leaving you with just pure natural sound reproduction.
Higher Power into More Demanding Loads
Experience the immense dynamics of up to 600 clean Watts delivered into demanding 2-Ohm loads. Both power supply impedance and internal cabling inductance have been minimized to deliver a clear path for maximum power – even in the most demanding conditions. While previous 5-channel MCA amps used a single power supply for front left and right channels and another power supply of the centre and surround, the new MCA 525 shares its two power supply between all channels. The result is full bursts of power – instantly – without affecting channel separation.
Next generation Advanced Load Monitoring™ Technology
Exclusive ALM™ technology monitors internal temperature, current and voltage to ensure safe and uninterrupted longterm operation, all the while eliminating the need for internal fuses. ALM™ is not in the signal path, so it never gets in the way. Instead, ALM engages instantly, but only in the most extreme circumstances, to protect your amplifier (and speakers) from damage.
This new generation ALM™ lowers the chance of a line fuse blowing during an over-current condition. Should a fault condition arise, unaffected channels continue to play and all-channel operation resumes automatically once conditions are back to normal. The LED on the front panel confirms status at all times.
Engineered for Reliability
The new generation of MCA Amplifiers uses of Anthem's years of experience to "engineer out" common amplifier gremlins. Consequently, we've removed output relays, so the signal path has absolutely no moving parts. All parts, including the eight bipolar output transistors per channel, are run conservatively so they remain within their safe operating range. Power-on inrush current has been minimized to reduce line disturbances and stress on internal components. We've also upgraded internal connectors and increased mechanical strength.
Green "Standby" Power Consumption
In addition to the reduced inrush current, these new MCA Amplifiers only use between 1-2W in "standby" mode. As with all Anthem amplifiers, they can be switched on manually, via trigger, or by sensing an input signal. New, larger, more conductive audiophile binding posts have been added to maximize contact and maintain a firm grip on the speaker cable. If you're in the market for cutting-edge audio component separates, Anthem's new MCA Amplifiers balance the complex dynamics of today's most demanding multi-channel media with the rare finesse required to satisfy the audiophile in you. MCA Amps provide an abundance of conservatively rated power into demanding low impedance loads, incredible reliability, and a new design aesthetic that matches our sleek AVM 60 Pre-Amplifier.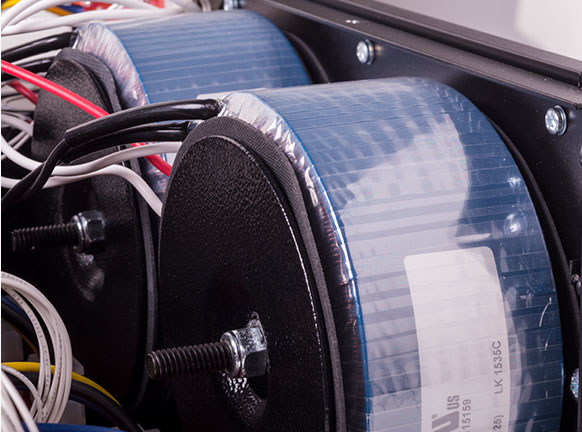 Massive Toroidal Power Supplies
MCA amplifiers deliver incredible dynamics thanks to massive "audiophile approved" conservatively rated power supplies designed with high rail voltages. Low flux toroidal power transformers ensure ultra quiet performance by minimizing stray magnetic field radiation. This provides the pure, clean, low-noise power that is needed to reproduce the full dynamics of home theater and the most complex and dynamic music recordings.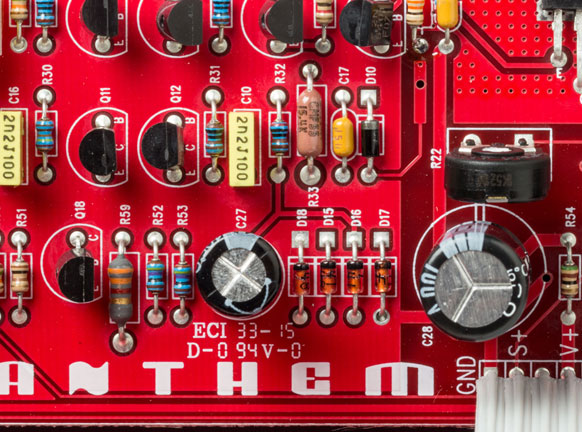 Quality Components
Anthem MCA amplifiers are designed, engineered, and completely Crafted in Canada. We take pride in using only the highest quality components for each one we hand-build.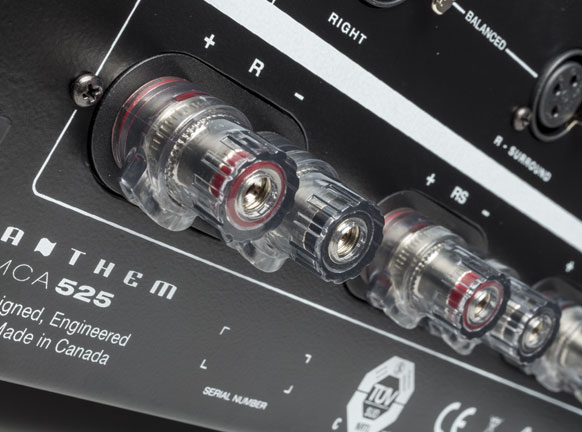 Audiophile Binding Posts
Our own custom-designed, oversized robust binding posts ensure full power delivery at all times. They're easy to use and facilitate large speaker cable connectors.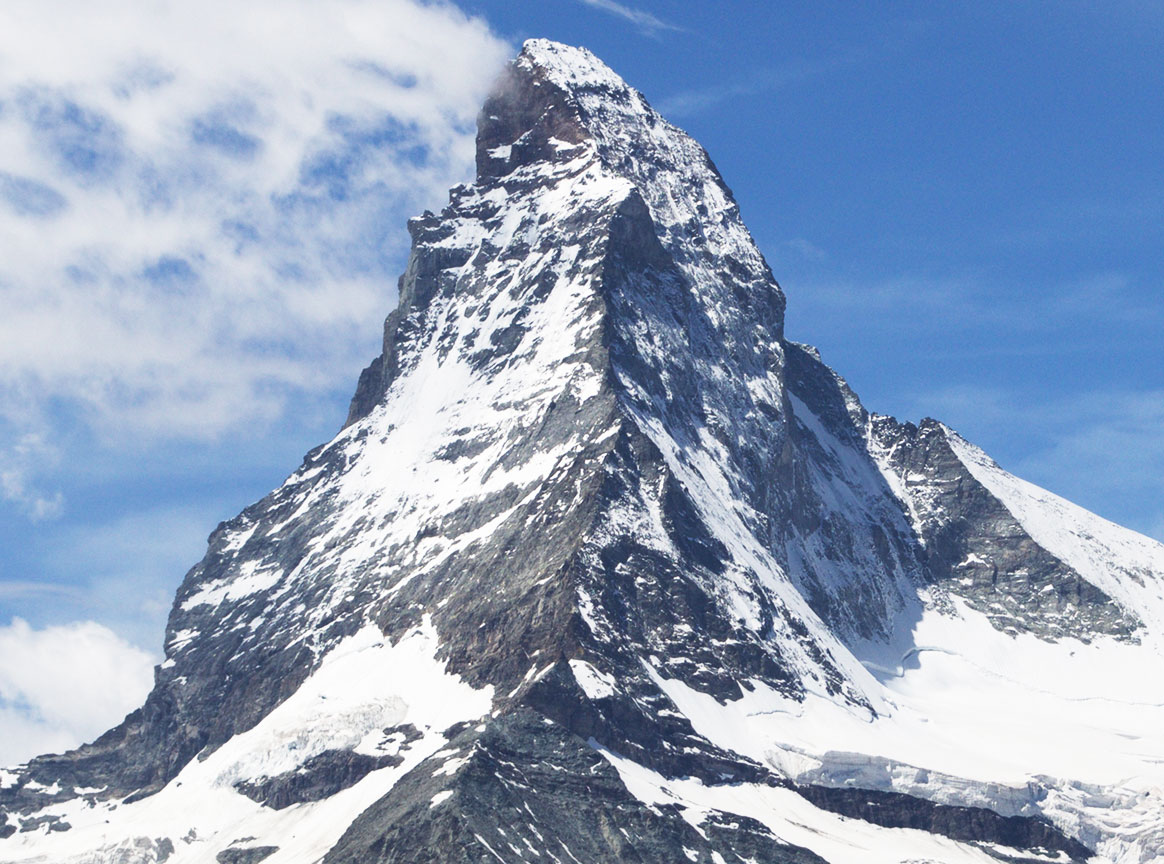 Stable as a Rock
Our amplifiers are incredibly stable into difficult, low-impedance speaker loads, making these superb-sounding dynamos reliable performers in even the toughest circumstances.